COMPANY PROFILE
Asiagroup was established in Singapore in the 1980s as a supplier of cranes and heavy equipment and it is one of the largest crane rental company in the Asia-Pacific region.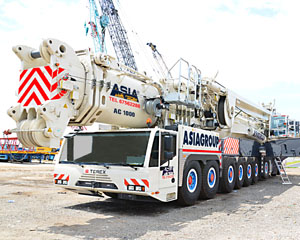 Large Fleet Of Equipment In Asia Region
With a fleet size of more than 300 mobile and crawlers ranging in size from under 50 tonnes to 1,200 tonnes, we are one of the largest crane-owning company in the Asia-Pacific region.
Over the past four decades, our company has expanded our operations to include Malaysia and recently Myanmar.
We serve customers in diverse industries such as building construction and engineering, infrastructure, petrochemical and power generation sectors.
Back by our track records and quality lifting assets, we have established ourselves as a leading name in crane rental and equipment sales in the Southeast Asia market.
Besides our large fleet of equipment, our group currently compromises of over 400 experienced and well-knowledged employees that value-adds our services to the clients.
The company has also invested in transport equipment including trailers, multi-axle modular trailers over the years to provide a wider range of services to our clients.